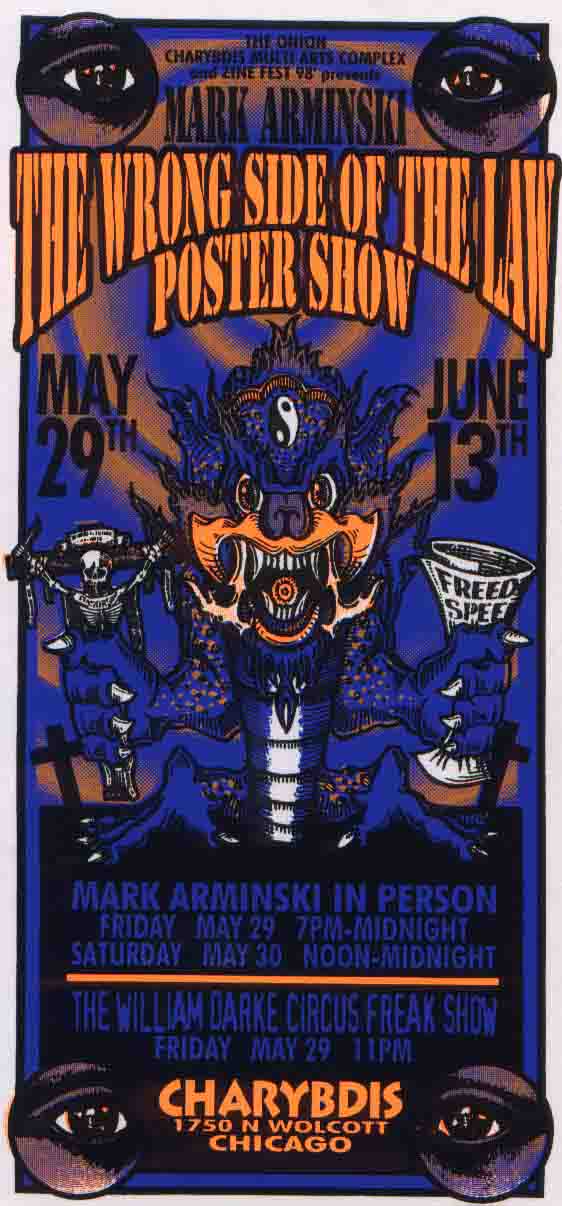 Chicago Zinefest '98
---
Zinefest was an underground celebration set to coincide with the American Booksellers Convention held at McCormick Place for the last several years. The event took place over the course of one weekend on Friday & Saturday. Charybdis was the place to buy and sell zines, make trades, make friends, and make a profit. Plus rare videos, books, comics, collectibles, artwork, and a whole lot more were featured.
· The William Darkė Psycho Circus & Freak Show Spectacular!
The death-defying, gut wrenching William Darke Freak Show entertained & mystified the Zine Fest crowd with a one-hour performance.

Heart-pounding stunts included:
lawn mower balancing, chainsaw juggling, "The Human Jack-O-Lantern," and much, much more.
· Mark Arminski Poster Show - "The Wrong Side of the Law"
Famed artist, Mark Arminski showed his work in Chicago for the very first time as a special guest for Chicago Zinefest '98.
Arminski was fresh from his court battle over the right to produce rock posters,
up against management for The Dave Matthews Band and Phish.
The Dave Matthews Band played in Chicago the same weekend! They were challenged to show up and give their side to the issue, but representatives from both groups declined our invitation.
~An appalled Arminski had this to say:
"The band's management saw my work in a catalogue, and I'm sure they're smelling dollars!"...
"I don't make much doing these posters, I do these silkscreens because they are fun to do."
· The Onion
Chicagoland's newest weekly, was one of the sponsors for Zinefest '98.
· Participants included:
Quimby's Queer Store, Fantagraphics, Chicago Comics, FatCity E-Zine, King VelVeeda, Ben Is Dead, Michael Hunt Publishing and the zine Scab City, by the world's youngest publisher!