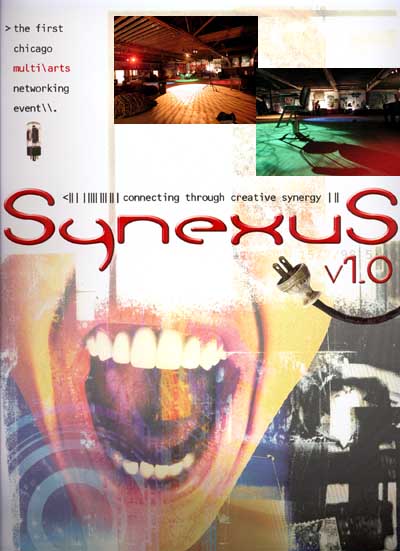 ---
SYNEXUS v1.0
connecting through creative synergy
Friday May 4th
8:00 pm – 2:00 am

Saturday May 5th
2:00 pm – 2:00 am

Sunday May 6th
5:00 pm – 1:00 am

CHARYBDIS invites all artists & art professionals to gather under the most creative roof in Chicago for three nights and two days. SYNEXUS is a time to network, showcase, and enjoy all art forms. From performance to music; visual to technical; individuals to groups, there's no time like the present to get involved and spread the word. It's time for all of us to take back our industry and define what it means to be a career artist.


All art professionals are encouraged to attend.
Music
Bands/Soloists/Recording Studios/Labels & Producers/DJs/Rappers, Freestylers & MCs/ Audio Pros/Radio Stations/Technicians/Supply & Production Houses/etc…



Performing Arts
Theatre Companies/Actors/Dancers/Dance Troops/Improvers/Performance Ensembles & Soloists/Interdisciplinary Groups/Technicians/Supply & Production Houses/etc…



Visual
Painters/Photographers/Graphic Designers/Illustrators/Graffiti Crews/Silkscreeners/ Sculptors/Galleries/Studios/Filmmakers/Videographers/Documentors/Web Designers/ Supply & Production Houses/etc…



Words
Writers/Poets/Art Publications/Journalists/Publishers/etc...



Media
Newpapers/Magazines/Journals/Educational Publications/Radio/Television/ Websites/etc…




CHARYBDIS invites you to participate in a kinetic gathering of Art professionals. The idea is to assemble the artists and let synergy take over. Take advantage of this exciting opportunity to rebuild the Art Industry in Chicago. After all, the Art Industry needs to be run by artists, not commerce executives.
NETWORKING OPPORTUNITIES
The Network Pool – Expanding your promotional databases
· Future projects / Spreading information / All art forms brought together

Showcase/Exhibit
· Exposure / Professional Documentation

Interactive Attractions & Art Giveaways
· Workshops
· Paintball Shooting Gallery
· Construction/Destruction Corner
· Get connected with Giant Twister
· Photo-op area / "Your Minute of Fame" video booth

Participation in the new media frontier for artists
· Interviews / Opinions
· Maelstrom (The Charybdis magazine)
· Building the first Chicago non-commercial radio station for all art forms.

Capitalism/Consumerism opportunities
· Buying/selling/bartering/trading Art goods & services.





Musical Performances:
Friday May 4th
8:00 pm – 2:00 am



DETHOLZ
THE DRAPES
NAKED & SHAMELESS
THE SAPS
TURNER JOY
TWANG BANG

Saturday May 5th
2:00 pm – 2:00 am



A MODERN JOY
AZIOLA CRY
THE FLASHBULB
THE GIST
HEDONISTS, MAYBE
INVERTABRAE
NAKED & SHAMELESS
1000 VERTICAL FT.
PROLIXON
TWANG BANG

Sunday May 6th
5:00 pm – 1:00 am



2-Step
CASPER
Drum & Bass
CIRO
FOUR/4
RADIATA
House
CHEECH
Techno
DJ WARP
Trance
LIVEWIRE
Visual Exhibition:
RK / SB GRAFFITI CREWS
AWES
MIKE "H-DOG" BROWARSKI
RACHEL DECKER
DASL
DOAK
ELOTES
JES FARNUM
FEEL THE RHYTHM GRAFFITI CREW
GEOFFREY FINGERHUT
CATHY HAIBACH
KATHY KADLUBOWSKI
JESSICA KRONIKA
KELI LEMOI
BRIAN MILLER
GREGOR MORTIS
DANIEL MYERS
NERD
CHERRY RAHN
RAVEN
RAY
REVISE
RON RICHTER
MIKEL SAMSON
MARK SHEPHERD
CYNTHIA SIMMS
KIRSTEN RAE SIMONSEN
KERRY SKARBAKKA
ST. AEROS
STATIK
GRADY STILES (the legendary "Lobster Boy")
AARON WILKINS
JOE WINSTON

Documentation:
CHICAGO PRODUCERS
KEITH BISHTON
KELI LEMOI

Organizations:
CHARYBDIS
ARC GALLERY
ATOMIC MOUSE RECORDINGS
B-NET INTERACTIVE / MLP
CHICAGO PRODUCERS
CHICAGOLOCALBANDS.COM
CHICAGOMUSIC.COM
CHICAGOFUN.ORG
FORMS IN MOTION
GENIUS INSANITY
OWMYEYE PRODUCTIONS
PEOPLE OF RHYTHM RECORDS
PRANK
RADIOWAVE.COM
SOLUS DESIGNS
WLUW RADIO
LET'S TAKE BACK THE ART INDUSTRY!