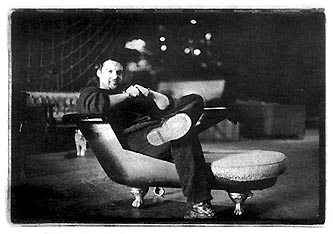 Charybdis' owner Gregor Mortis Tatro is in a bind. Whose fault is it?
Chicago Reader - June 8, 2001
Culture Club - Section 2 - Front Page
Sucked In

By Deanna Isaacs
Staff Writer



---
Gregor Mortis Tatro, Gregory to his mom, only looks like he's courting trouble. Dressed like Dracula's little brother, his midnight tresses touched with electric blue, he's potentate of his own pretend-scary domain, the cavernous multi-arts complex he carved out of an old bowling alley at 4423 N. Milwaukee and named for the treacherous whirlpool Charybdis. According to Greek legend, Charybdis and its sister hazard "the monster Scylla" were the original "rock and a hard place." That's a pretty good description of the situation Tatro now finds himself in.
Tatro says Charybdis is an independent entrepreneurial center for all kinds of art events. Like the one that was under way May 19 when police and Department of Revenue agents busted in, spotted a woman on rollerblades painting a large canvas with her bare breast, and shut the place down. Tatro says the cops, unable to find drugs, confiscated $225 in door receipts and his bowl of Blow Pops, and put him in jail for the night. He says they also confiscated all the money he had in his pocket. That was $1,40O, which looked like the amount he would have taken in from the crowd that was there at $10 a head, but, he says, was not. (Tatro says an admission fee was voluntary; two undercover agents claim otherwise.) He was cited for not having the proper business licenses and for liquor consumption on the premises and was told to cut this stuff out. When he went forward with a benefit event May 26, police returned and shut him down again. Five days later, when he was showing a movie to 20 people who happened to give him $2 each, it was back to the lockup. Now he's broke, facing thousands of dollars in potential fines, and blocked from staging any events that might bring in money. Someone's out to destroy him, he says.
Tatro can't get the license he needs for public performances until the building, which also houses several other businesses, is rezoned. He says 45th Ward alderman Patrick Levar is sitting in his path like Scylla, holding up the rezoning on the one hand and getting him into trouble for not having the license on the other. Tatro doesn't think it's a coincidence that the raids started after a hip-hop event May 12. "We brought a lot of African-American and Hispanic artists to the neighborhood," he says. "The very next weekend we got taken down."
Charybdis has been operating in this terra-cotta building in Jefferson Park since September, after rising rents pushed it out of Wicker Park. The 12,000-square-foot main space is a mix of arcade, theatrical set, and haunted house, furnished with carnival props, a skateboard ramp, and thrift-shop couches; the walls a riot of taggers' art. It functions as a gallery, rehearsal hall, performance space, studio, and clubhouse. A theater graduate of the University of Illinois at Urbana-Champaign, Tatro started Charybdis seven years ago, when, he says, he got tired of waiting for others to give him a break. He runs it with volunteer help, offers memberships, and takes a 50 percent commission on any artwork sold.
Tatro's landlord, Paul Tsakiris, says he's been working on the zoning change for more than a year, well before Charybdis moved in. His attorney, John Pikarski, says the request came before the City Council's committee on zoning and was continued for more community input, "at which point the alderman is responsible" for getting it back on the agenda. Jefferson Park police say they've received complaints about loud music (something Tsakiris says has been remedied) and operating an illegal nightclub. Alderman Levar did not return phone calls. Tatro is looking for a lawyer willing to work pro bono.