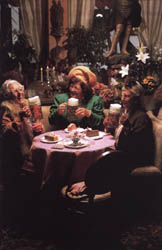 THE POET SLUTS
---
Anytime Anywhere Anybody
for
Any Reason
On February 8th 1998, Charybdis took the spoken-word
genre and literally turned it upside-down, creating
a new breed of talking heads.

Layered with musical rhythms and trash-compacted technology,
"The Poet Sluts" poked an absurdist finger at the world of objective contents of thoughts.
This world, consisting of lights on the floor and chairs on the ceiling,
was saturated with word fractals spoken within audio vibrations from a concrete mirror.
Bands and poets flirted together with no boundaries
separating the performers from the audience.

Spoken Word:

Blossom Appel . Joe Allen . Jennifer Sowinski .
Noam Paco Gaster . Dina Stenger . Charles Bernstein .
Mia Lahoz
Music:

Didgerigoo . Catfish Hunter . Zelienople