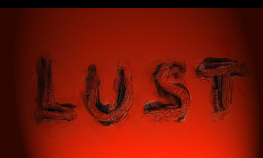 Lust
a multi-media installation
---
Naturally the most lustful individuals are artists.

On March 7th 1998, Charybdis brought together
Performance Artists, Painters, Musicians, and a Body Graffitist,
with a Sculptural Installation of madcap proportions.

Featured Artists:
Body Painting
Christian Erik Meyer
A visiting artist from Germany, painted and airbrushed
eight people over the course of the event

Here is a 2.5MB .avi file of some lustful body painting by Christian Erik Meyer.


Paintings
Trish Carter & April Stocky
Performance Art
Morematterless
"Fatashes" - a visceral exploration of a naked chick, a shop-vac, and a cello...
Jeff Grygny & Ron Wolczyk
"Love Transformer" - a tale of lust & alchemy



Electric Rhythms & Music
Zelienople
Installation
"Oh Say, Can You See" - event centerpiece consisting of:

a bondage rack, an American flag made entirely out of weapons, hot-air balloon baskets, dildos, barbwire, painted mannequins, a television, a globe, cliplights, painted canvas, a throne, a baby crib, an ashtray, plastic wrap, a barbell, a baseball & bat, chains, wood, a baby bottle, a yo-yo, a latex skull mask, foam insulation, pipes, PVC tubing, a judge's gavel, a fully-functional industrial humidifying system, latex & oil paints, and 80 lbs. of dirty laundry.