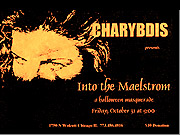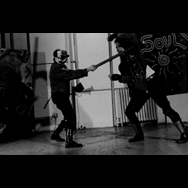 Into The Maelstrom

---
Billed as a Halloween masquerade, on October 31st 1997,
Charybdis brought together the elements of nightmares,
combat, eroticism, torture, the occult, and astrology,
filtered through an elaborate exhibition of art and
performance.

To enhance the eclectic atmosphere, Charybdis utilized
costumes from an accelerating culture, large puppets,
paintings, installations, gothic sculptures, and an entrance
preceded by a claustrophobic maze ending with a sarcophagus.
Featured Artists:
Psychedelic Rants & Music
Soul Food
Bedlam's Playground - A Nightmare Performance
Myka C. Quinn, Gregor Mortis, & Ryan "psychokitty" Galioto
A performance montage consisting of rituals, violence,
a cyber-Cheshire Cat & plenty of latex.


Xtreme Combat
The Killzone Hitchhikers
Fortunes & Tarot
Cassandra
Torture & Erotic Play
Jenna - 'The Mistress of Night'
Audio Sculptor