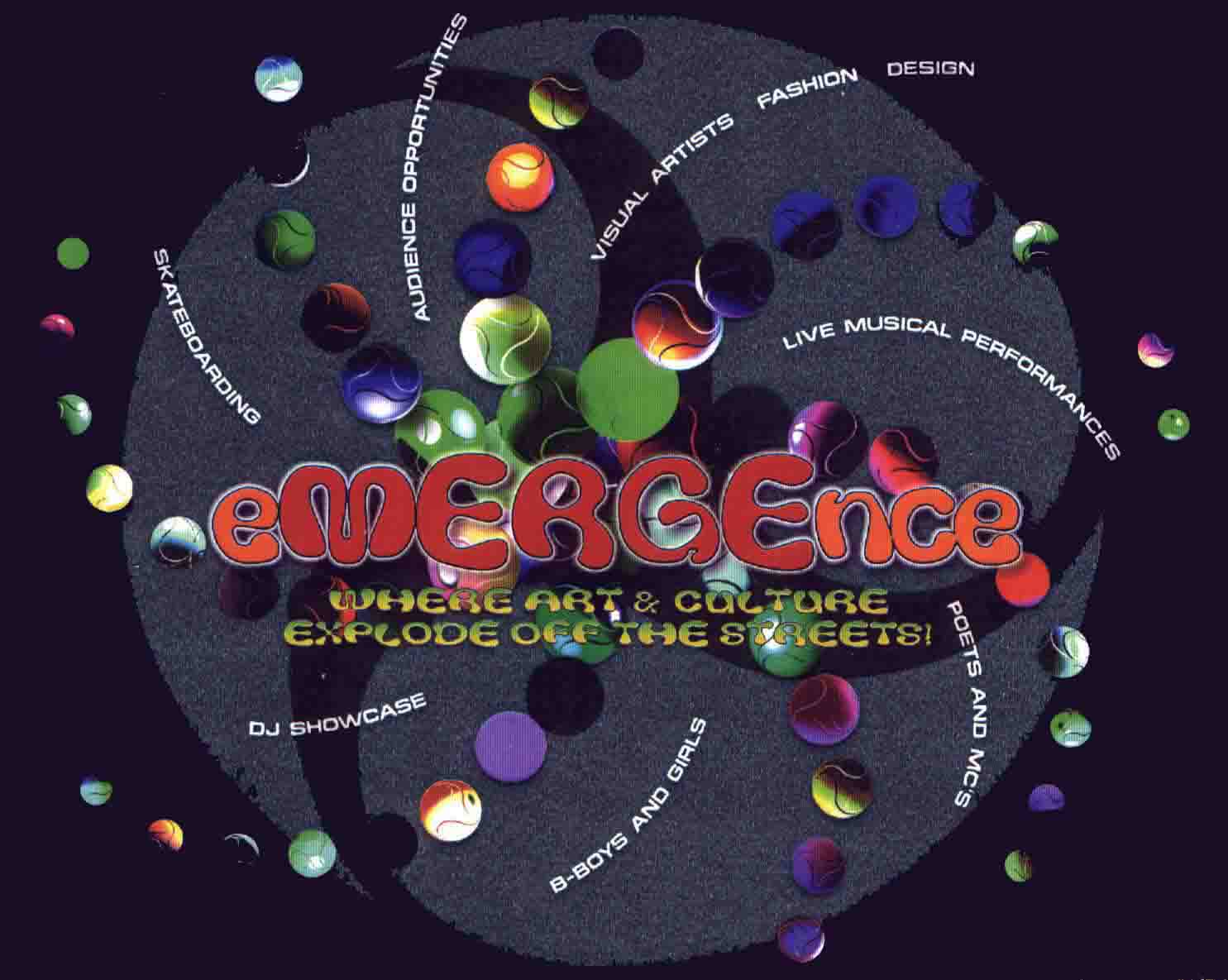 eMERGEnce
---
"eMERGEnce," was a merge of artistic expression; the return of the renaissance artist, beatniks and street culture alike taking you on a journey through time and giving you the future.
Featuring:
Visual Arts - Graffiti, Photography, Oils, Computer, Sculpture!
Live Musical Performances - Acid Jazz, Funk, Hip-Hop, Rock, Reggae!
Spoken Word - Poetry, Monologues, Mc's, Rap!
Breakdancing Spotlight - Beats, Breaks, Spins!
Performance Art - Fashion, Costumes, Theatrics!
Skateboarding - A half-pipe for Skateboarding tricks!
Artistic Opportunities - Audience Participation, Improvisation, Networking!

Featured Artists:
Funk/Rock Combo
Vinyl LP Kings
Violinist
Jamie Bowman
Guitar & Vocals
Tommie Randle
Rap MC's
The Black Allies, Soul Child, Nipple the Pimp, Sin Deep, The Jazz Intellect, & Cisse Williams as Deep Sea
DJ'S
DJ Sabotage, DJ Shon Dervis
Spoken Word
Joffre Stewart, Brother Mike Hawkins, Funsho Akerel-Ale, Smokie, & Cisse Williams
Photography
Mike Shea, Dagmara Mituniewicz
Graffiti Art
Zack Bandera & Mike Shea
Painting & Visual Art
Joel Koster, Cynthia Dwyer, Damon Reed, Smokie, & Funsho Akerel-Ale
Fashion Design
Geosuff Obese Geere