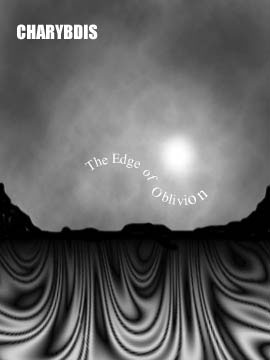 In the periphery of vision, beyond the realm of the mundane, lies a nearly forgotten territory:
THE EDGE OF OBLIVION
art of the subconscious
---
On Saturday, August 1st, Charybdis took another step on the continuing journey into alternative art forms.

Featuring the photographs of Jim Lucas, including the incredible "Sarajevo Series"; the konji-abstractions of Markus Frederick, and - in his first Chicago gallery show - the nightmarish found-art constructions of Jes Farnum.

Also featured was a large-scale installation "All Your Subterranean Dragons Can Now Attack Any Card in the Battlefield", by Trish Carter and Cathy Haibach.
Featured Performers:
Dance
Tracy Westmoreland
Member of the Wonderslam Dance Company and the musical group Milkbaby, performed a new dance/performance piece entitled "The Rise and Fall of Misty


Storyteller
Antonio Sacre
An excerpt from his original work "White, Black and Brown all over."


Musical Group
Grand Theft Auto