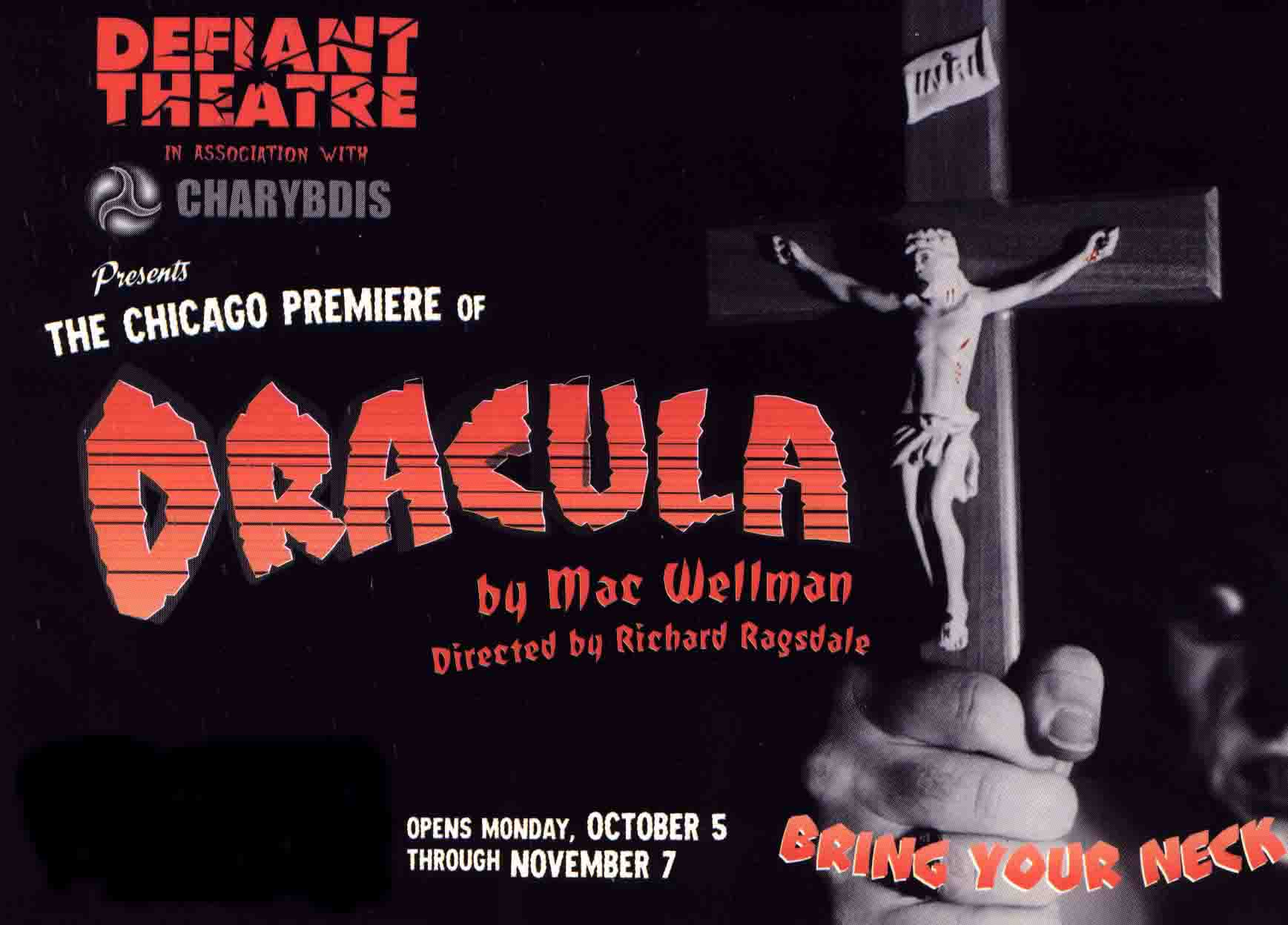 Charybdis & Defiant Theatre's Chicago Premiere of
Dracula
by Mac Wellman
---
Following the highly successful run of Action Movie: The Play, Defiant Theatre proudly presented the Chicago Premiere of Dracula, by Mac Wellman. The production was presented at Charybdis for five weeks to sold-out houses. Dracula's opening night was October 5th and the run continued through November 7th.
Charybdis provided Defiant's members with the exciting opportunity to create their performance in an uncommon setting that wowed Chicago audiences. Mac Wellman's offbeat and unconventional adaptation of Bram Stoker's historic masterpiece lent itself well to the unique ambience the Charybdis' space provides naturally. To underscore Wellman's atmospheric writing, Defiant & Charybdis presented Dracula in an environmental staging. Audiences experienced the drama unfolding around them. The set was built in seven locations, with the audience seated in the middle, on swivel chairs. That way, the action of the play completely surrounded the viewers and the audience became an active part of the show.
Dracula Director Richard Ragsdale enthusiastically remarked "Never before have I had so much room to stretch my feet out in!" Scenic designer Nic Dimond welcomed Charybdis' challenge of using its non-traditional yet amenable setting. "The number of possibilities we had with this space was truly unbelievable."
Featured Artists:
Director
Richard Ragsdale
The Cast
Kati Brazda, David Coronado, Christopher Johnson, Ted Lesley, Fanny Madison, Gregor Mortis, Katherine Ripley, Lisa Rothschiller, Will Schutz, Khristine Shields, and Jim Slonina.
The Designers
Scenic - Nic Dimond; Lighting - B. Emil Boulos; Costumes - Carol Cox; Sound - Brian and Matt Callahan; Puppetry - Tamara Muller; Machinery - Louis Jeroslow; Make-up - Sarah Pace; Hair - Jennifer Gehr; and Properties - Annie Joseph.
Stage Manager
Erin Wenzel
Dramaturg
Julie Dubiner
Assistant Director
Jim Slonina
House Manager
Sean Sinitski