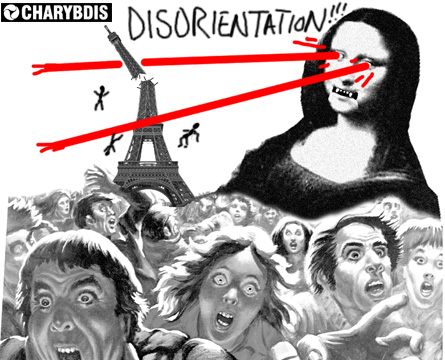 We don't need no stinkin' art skool
---
Itís real world art school...with a vengeance.
Dates: March 9-10





With NEH funding shrinking more rapidly than a dreamsicle in boiling water.
With NEA funding little more than a fairy tale set once upon a time.
Charybdis invites you to serve up high falutiní notions of "the arts" on your platter of choice.

Think parody.
Think farce.
Think about the doodles you were driven to make during mind-numbing lectures on formal composition.
Think about the impromptu tunes that danced around the perimeter of your brain as you tried to focus on music theory.
Think about the arcs and curves your body is moved to make that are not an official position in ballet, classical, or modern.
Think about the way you alienated friends and family in your "Stanislavskian method" phase.





Calling all starving artists, all jaded art school alumni, all practicing art renegades and flourishing art school dropouts:
Itís time to school the schools with real live art by real live artists.


You got the goods, we got the venue.



Friday, March 9th
Performances:


Sketches THE PROPER AUTHORITIES

"Astro Porn" RACHEL DECKER

"Stick Figure Drawing 101" CATHY HAIBACH

&
Original Works CHARYBDIS MEMBERS


Saturday, March 10th
Performances:


Sketches THE PROPER AUTHORITIES

"Professor Encyclopedia Lectures" JAMES ZOCCOLI

&
Original Works CHARYBDIS MEMBERS


Visual art & installations by: ANDREW BEDNO
KEITH BISHTON
AMY CAMPBELL
CATHY HAIBACH
JESSICA KRONIKA
AARON LAWLER
BRIAN MILLER
PATRICK MORGAN
GREGOR MORTIS
DANIEL MYERS
RON RICHTER
CHIP ROSENTHAL
ANNA SOLTYS
REVEREND J VELA
JOE WINSTON
JAMES ZOCCOLI




Charybdis: making art a serious good time.