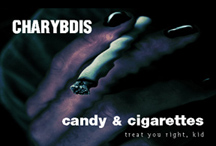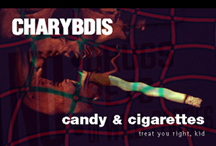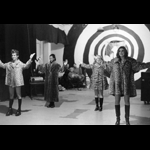 Candy & Cigarettes

---
The only way to escape this horrid peril
is to come over here and shack up with Charybdis.
Treat you right kid...Candy & Cigarettes.
Celebrating the sweet and the toxic
A multi-media performance event on the two weekends of December 5th & 6th,
and December 12th & 13th 1997, featured the work of local musicians, performers,
theatre groups and exhibitors.


Featured Artists (1st weekend):
Chicago's own twisted clown painter,
Shane Swank
The explosive sounds of the rock group
Premium
Dilapidated physical stunts by
Concussion Conti
British musical supergroup
The Poncey Lads
Monologuist
Amanda Clower
Two scenes from Chicago's hottest weapon-wielding showcase

Babes with Blades
Featured Artists (2nd weekend):
Chicago's own twisted clown painter,
Shane Swank
the musical group
Milk Baby
S/M poetry-performance by
William Gryffion
An interactive fashion experience by
Suki Productions
Opera Diva and musical saw-manipulator
Sarah Worthington & Nathan Carver
Performance Art group
The dol Furies