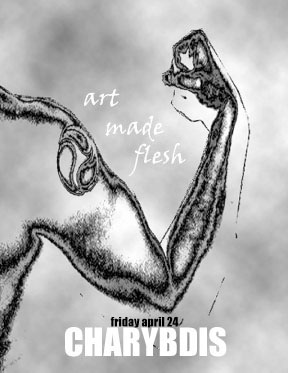 Art Made Flesh

---
The response to the Charybdis event "Lust" was so overwhelmingly positive
that we decided our next show was going to zero-in on art derived from the body
and what it means to be human.
Combining dance, music, body painting, piercing, photography,
installation, sculpture, video, film, hair design, and performance.
The evening was enhanced even further with the spectator art of Paint Wrestling and Tar & Feathering .
Featured Artists:
Dance
Robynne M. Gravenhorst
from The Anatomical Theatre
Theo Brown
Boogie
B&W Photographic Images
Fred Burkhart
Color Photography
Carrie Notari Harlan
Kathryn & Theresa Sofianos
Live Film & Video Mixing
OVT Visualz
DJ
La Duece
Body Graffiti & Performance
Christian Erik Meyer
Sculpture
Lois Horowitz
Installation
Mary Lou Green
Violin
Jamie Bowman
Percussion
Adam Keener
Body Piercing
Sonya
from Milios


Hair Design
Terri Weidell & Lycia Shatzer
from Creative Artists Salon