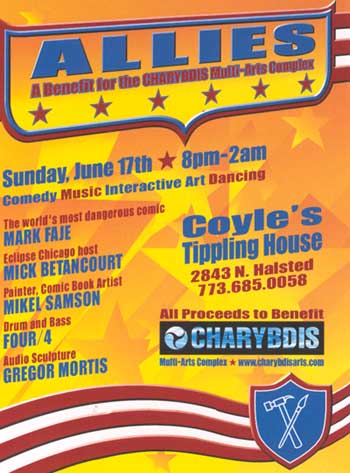 ---
ALLIES
The Charybdis Benefit Event
Fellow artists and art supporters, we'd like to thank you for all you've done to help Charybdis in our fight to procure our zoning change and proper licensing. The letters that have been sent in our support have been wonderful, and we hope to have good news for you soon. In the mean time, keep the letters & petitions going. We'll keep you posted.
Now we have something else to offer you:
a chance to help us continue our battle for independence!
That's right, folks. A benefit for Charybdis! Unfortunately, this has become a necessity. Our bills (and not to mention our potentially excessive fines) have stacked up, and we are asking for your support. It'll be an evening of merriment, with music, comedians, performances and all-around good mojo.
ALLIES
A benefit to aid Charybdis Multi-Arts Complex
Sunday, June 17th (Bring your father - it's better than a tie.)

Coyle's Tippling House
2843 N. Halsted, Chicago

21 and over

Featuring: The world's most dangerous comic MARK FAJE Host of Eclipse Chicago - "The hottest comedy show in town" MICK BETANCOURT Illustrator, painter, & comic book artist MIKEL SAMSON Drum and Bass FOUR/4 Audio Sculpture GREGOR MORTIS

*PLUS
Charybdis Photo & Poster Retrospective
Affordable Artwork for sale
Surprise Performances
Conversation, Dancing, & Laughter!




It's been a long while since we've gotten the chance to see some of you, and this is a time to rally together, have fun together and make a stand together.