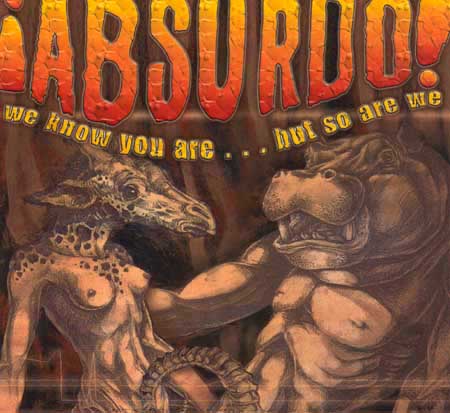 ---
A springtime celebration of the weird, wild and wacky in art.
FINAL WEEKEND
FRIDAY & SATURDAY, April 27/28
8:00pm ~ 2:00am
18 & over only (id required)

Featuring:
"FRIENDLY FIRE," The Paintball Shooting Gallery!

Destruction Corner (Bring something to destroy)

Intoxication Simulator

Costume Crate (Change your "look" at will)

Cargo Climbing Nets

Interactive Paint Corner

Skating Half-Pipe, launches, & ramps

Ping Pond (You've got to see it, to believe it)

Darts, Pool, Centipede

and much, much more!


Musical Performances:
Friday, April 27th
Devo-billy Madness
TWANG BANG
Heavy Mellow
HONEST POD
Dance your bare ass off to the hyper-ridiculous sounds of audio sculptor
GREGOR MORTIS
Saturday, April 28th
Electronic Tech-head & Sound Manipulators
THE FLASHBULB
WU-XIA (Oklahoma City)
UNSEELIE (Oklahoma City)
YUPPSTER
Visual Artists:
Paintings, Sculpture, and mixed-media work:
ANDREW BEDNO
RACHEL DECKER
JES FARNUM
GEOFFREY FINGERHUT
WALTER FYDRYCK
H.R. GIGER
CATHY HAIBACH
KATHY KADLUBOWSKI
GREGOR MORTIS
CHERRY RAHN
ROB RAY
RON RICHTER
MIKEL SAMSON
CYNTHIA SIMMS
KIRSTEN RAE SIMONSEN
GRADY STILES (The legendary "Lobster Boy")
JOE WINSTON


Graffiti Art & Murals:
ACER
AWES
AWOL
BARFLY
CHUCK
CLICK
DASL
DOAK
EGOR
ELOTES
ETC
FTR
KANE
DANIEL MYERS
NERD
PIKL
REVISE
ST. AEROS
STATIK