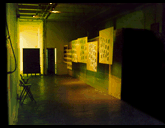 ORGANAZM
---
In Chicago, on May 14th 1997, Dontory Jordon
died of starvation, while his mother had a manicure.

Using this event as the springboard for the
nightmarish installation "Organazm", on June 27th
acclaimed artist David J. Brown transformed
Charybdis into a postmodernist maze of light and
horrific sound.



The piece included bubblewrap walls,
barbed wire, degenerating copies on plywood, an 8ft.
square nest of bubblewrap, a 14ft. photographic
print of fetal pigs, and an audience participation
performance.

"Organazm" inaugurated the Charybdis
Multi-Arts Complex with one of the largest and most
profoundly disturbing installations ever seen in Chicago.
A discussion with Brown on July 11th delved into
issues of power, greed, and responsibility, and how
these themes are explored in modern art and installation.